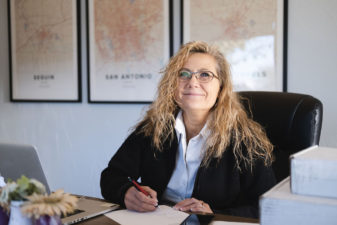 Lori Rathburn, REALTOR®
Residential Sales Manager
(512) 751-6928
[email protected]
Lori Rathburn joined Red Mansions in June of 2018. Her background of a Women Owned Business in telecommunications and security has allowed her to travel throughout the United States including Puerto Rico and Hawaii for 18 years. She also served as a vocational educator in Austin for 10 years.
Her dedication to education and assisting others makes her an excellent choice in your real estate endeavors.
Reviews from Clients:
"Lori was very helpful when my fiancé and I were looking for our first rental home. From the moment we met Lori she took the time to listen to exactly what we were looking for and went above and beyond to make sure we found a home to rent. She was also very easy to get in contact with! Lori genuinely cared about us and what we were needing in a home, and she was able to help us find exactly what we were looking for!" -Samantha Menger
"Excellent follow through, always available when needed. Researched local and HOA regulations on her own for our benefit. Extremely professional, flexible and courteous." -rbh972
"Lori is a super realtor. She incorporated into her search for us our desires and requirement for our new home. We were emailed almost daily with homes fitting our criteria and called when anything new was listed. She is the one that found our new house which we are pleased with. She's a good sport having to show us about 15 or so houses. Choosing her was a excellent decision for us." -dcearles
"Lori was patient understanding and on target every time we needed her. Very professional! Lori was our buying agent and should we decide to ever sell our lovely home Lori will be the first agent we call." – Chris Haskins
"I happened upon Lori Rathburn when she was listing a house that I was interested in renting. I called her to have her show me. After that showing and talking with Lori, I decided that the best thing for me was to try and see if I could buy a house. She had a loan officer that she highly recommended. I found another house I wanted to look at and Lori was happy to show me. She got me in touch with the loan officer so that all of my financing could be in place once I found a home. Lori worked tirelessly to find me and my two children the perfect house. I could call her any time of the day and she would answer her phone with a happy hello and usually within an hour or so we were meeting at another house for her to show me. I never felt like she pushed me into buying a house because she was tired of dealing with me and that she just wanted her commission. She made me feel like she was in it for the long haul until I found the perfect house. She never tried to push her opinions on to me but after looking at quite a few houses together she could read me. We went back to the same house three times to make sure that it was exactly what I wanted. We put in the offer, I had the financing in place and we were ready to close. The week we were set to close the loan officer called Lori and for some reason decided not to finance my purchase of the house. Lori jumped into action and called another loan officer that she went to a presentation of his company and called him. That same day I was contacted by this loan officer and the date to close was only pushed back by less than a week. Lori has stopped by the house several times to check on me and my children to see if we were still happy with our choice. She still calls me to check up on me and my children and has even been so kind as to make us her blue ribbon banana bread. Lori is not just a realtor she is my realtor for any future plans that I have in real estate. Thank you Lori for your honesty, sincerity, knowledge and caring." -Leeanakmp